The chesterfield furniture is wrongly thought of something manufactured by the chesterfield company. It is not something that one company manufactures. The history ad the original story behind is a bit different. It was originally manufactured in chesterfield by a man who just put together the finest pieces if leather and wood and buttoned them down with leather coated button giving birth to a masterpiece that is still as popular with people as it was when it was born. The beautiful and elegant masterpiece got its name as the chesterfield sofa and is now manufactured not by one company but by a number of companies.
The companies have always been changing the looks of the sofa keeping the basic theme intact. The modern chesterfield sofa is still handmade but it is crafted from a variety of materials. They are manufactured from different materials like cotton, velvet or silk instead of leather. The variety of wood differs too. Because of the difference in materials, they come in a wide price range depending upon the quality of materials used.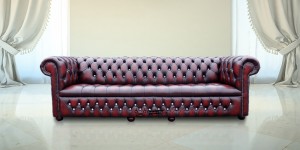 The modern chesterfield sofa, unlike the classical ones is in the range of ordinary people too. Earlier only the rich and high class people could afford it because it was too expensive. Now the ordinary people enjoy the same royal feeling with the same quality. Not only its good looks make it a must in your house hold furniture, its durability and long lasting nature plays a part in that too. It is easy to handle and does not require a lot of handling like the other sofas do. It is comfortable and relaxing which makes it a must in your living room or bedroom so that when ever you want to feel comfortable while reading a book, you find it the best thing in the whole world.