Some pieces of furniture are better showcases for good fabrics than others. Like finely woven Persian rugs some fabrics need to be both felt and to be seen in order to be fully appreciated. While I am not suggesting that anyone cut up a good Persian rug to recover a bit of furniture, I am thinking of a few small pieces that act as excellent displays for better fabrics. Footstools, pillows and table runners are all accessories that lend themselves very well to this task.
I recently found a couple of yards of excellent vintage brocade fabric at a designer's sale. The remnant was old, but well preserved and exquisite in its detail. I could have chosen to have it framed as art and few would have questioned my decision. I did not. Instead, I took the fabric and a plain, rectangular ottoman to my upholsterer with strict instructions to let the fabric rule. The result was a footstool of unsurpassed elegance. I could, of course, have opted for using the fabric for throw pillows. Why not? I have pillows done in hand-embroidered silk that are almost too pretty to lay your head upon. Table runners do well in almost any fine fabric, also.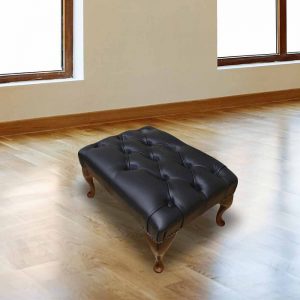 Why do footstools, pillows and runners display fabric so beautifully? Think of them as the thin, pale-faced models on the high-fashion runway whose job it is to make the clothes look good. The small furnishings are models for the fabric, allowing it to take the limelight and draw the admiration of the viewer. They simply exist beneath it and make it look better than it would if left hanging on a rack. So now when you do happen across a bit of divine fabric, you will know what to do in order to make the most of it.