3 Quick and Easy Modern Living Room Ideas
You only need to take a quick scan through Pinterest or Instagram to see plenty of modern living rooms; they're everywhere!
You may have even taken the plunge and bought yourself a brand new modern fabric sofa or contemporary leather sofa to go in your space but just how can you ensure the rest of the room is up to speed with your modern decor?
We've rounded up a few simple tips to help you create a modern living room – in no time at all!
Whites and Greys
Modern designs are generally thought of as cold and clinical so white and grey is definitely a daring choice when it comes to modern design, however when done correctly it can be effortlessly chic and sleek.
When decorating the rest of the room, choose varying shades of grey and white to use within your decor. For example, keep walls white and curtains lightweight to maximise the light around the room and give the illusion of more space.
Next, choose a sofa that maximises the space – angular and modular sofas such as mid-century modern styles are great for modern living rooms whilst traditional rooms are best suited for leather chesterfields. If you've fallen in love with a chesterfield sofa – opt for one in classic grey, velvet fabrics.
Got hardwood floors? Why not give them a new lease of life and lighten up a dark room by giving them a lick of paint? Enamel or epoxy-based paint is ideal for this as it has an attractive sheen to it and the room will look different in no time!
Old and battered coffee tables and sideboards can be instantly updated through paint too – why not consider using painter's tape to add some appealing stripes to your old furniture and it'll soon look brand new!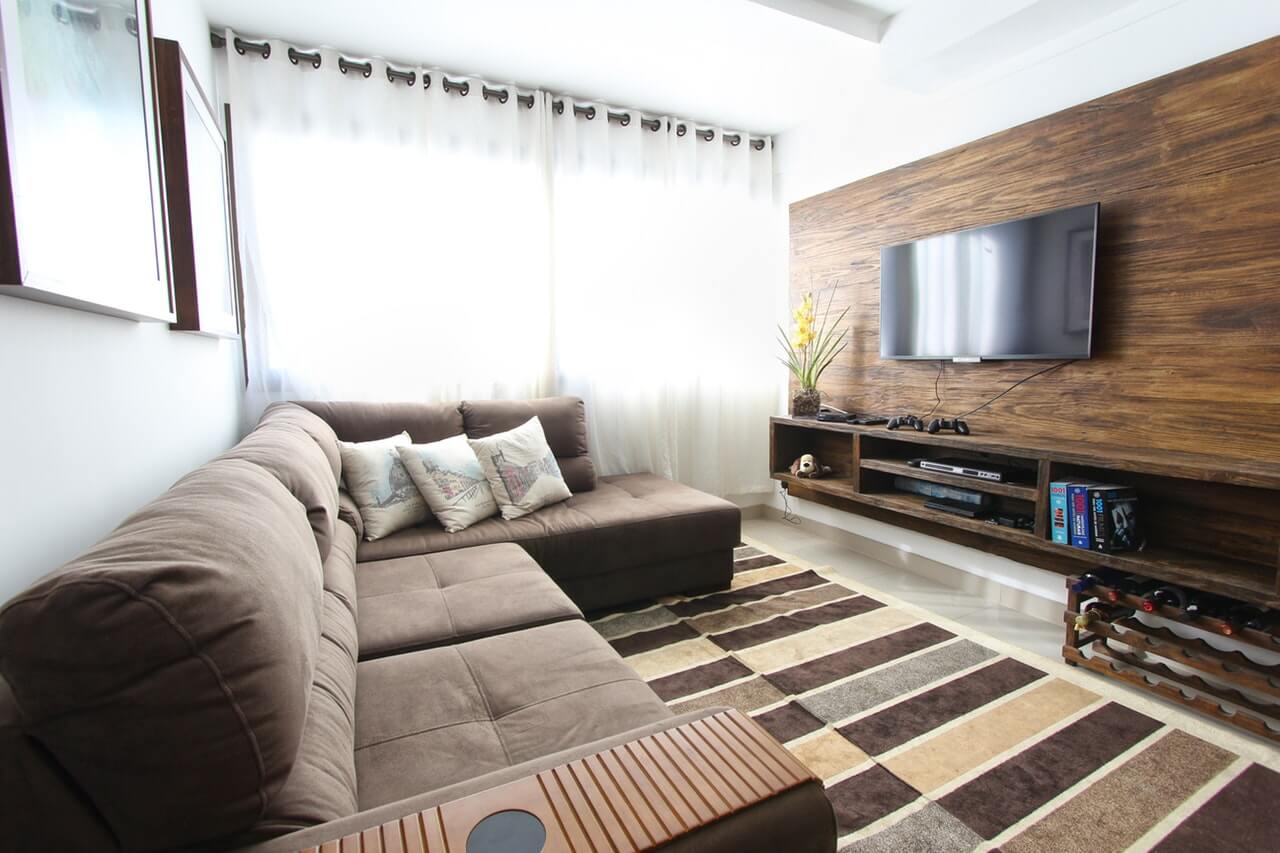 Creams and Browns
Creams and browns always provide a soothing touch to the room and the palette itself makes for a cosy atmosphere and ambience.
When choosing a new sofa for your cream and brown, be sure to choose one with lots of scatter back pillows and add booster cushions in contrasting yet warm shades such as orange, red or greens to add another element to the room.
These types of warm finishes incorporated into the soft furnishings ensure that the rooms feels modern, minimal yet warm and inviting and creates the perfect focal point to draw the eye in.
Looking for a weekend project? Why not create your very own artwork on the walls and create some framed chalkboards? Perfect for a family task, you can pick up some chalkboards at your local hardware shop. Then simply add your message and frame them in a distressed wood frame and hang! Simple and it really will cost you less then £20.
Alternatively, why not use your leftover wallpaper and create some interesting yet quirky artwork? Simply cut out and place into frames – pop them on your feature wall and the room will come together perfectly for little to no money, at all!
Pastels
An ideal shade for 2018, pastel shades are the new in-thing and ideal for spring and summer. Simply pain your wall in a soft pastel shade, swap out your scatter cushions and illuminate the room with pretty blue, pink and coral accents and you'll have a brand new look in no time at all.
Plus, pastel shades work well with a number of different light sofa colours from white to cream.
Why not make the room pop even more with an arrangement of pretty flowers – either real or fake, it's up to you – for that perfect spring touch.
How do you update your modern living room? Send us your quick and easy tips and we could feature them in our next post! Get in touch on Facebook or Twitter.
Remember, if you're looking for help and advice on choosing your next sofa, be sure to get in touch with us and our friendly team can help.