Description
HANDCRAFTED IN ENGLAND
The Chesterfield Classic Suite available in 2 + 2 x Armchairs Chairs + Footstool (Two Seater Settee and 2 x Mallory Chairs + Footstool).
The Chesterfield Leather Sofa with it's unique Low Back Style, Deep Buttoned Arms and Back complemented with a Buttoned Front Border. The Scroll Fronted arms on the Chesterfield Leather Sofa are attractively embellished with lines of individual stud nails. An undoubted winner in any room from the cottage to the boardroom. A classic of its kind Traditional Vintage British Style.
INTERNATIONAL SHIPPING:
For a rough guide to the cost of Worldwide Shipping please click here.
PLEASE NOTE: WE ALSO MANUFACTURE 2.5 SEATER CHESTERFIELDS. PLEASE CONTACT US ON 01254 268590 FOR MORE INFORMATION
2 Seater Width 165cm x Depth 86cm x Height 72cm
Wing Chair - W84cm x H 107cm x Depth 86.5cm
Please click here for an insight into the history of our Chesterfield Settees
Our Chesterfield Sofas have previously featured on ITV's 60 Minute Make Over programme. Click Here to view our Chesterfield Wing Chair on the Fox's Biscuit adverts.
" Timeless, Orignal …Classic Design's "
For a LIMITED PERIOD ONLY buy our Exclusive Classic Chesterfield Suites for Half Price. Massive Stock Clearence Event - Sofa Manufactured with 100% Top Grain Genuine Leather fully handcrafted in the UK.
Delivery Lead Time 2-4 Weeks - normally orders are delivered to your door within 3 Weeks of ordering!
If you require more information on this piece of furniture, please feel free to contact us on: Tel: 01254 268590. Alternatively click on the LIVE HELP button located in the 'Top Right' Hand corner of your screen.
Our showroom opening times are Monday - Friday 10am - 5.30pm.
We understand that purchasing furniture is a household decision. Therefore in order to make this stress free, we offer all our customers:
Free swatches to help decide on colours
Free impartial advice on the suitability of products
Manufacture Bespoke Items to fit the space you have available
Your Payment Options
Paying by Debit Or Credit Card Or Paypal
Pay For Your Order In Full Upfront
OR
Pay a 50% Deposit At Checkout And Pay The Balance Before Or On Delivery
Leather Care Kit £20.42
Cleans, Feeds, Protects & re-instates the smell back into old and new leather items!
Contents
250mlLeather Ultra Clean
250ml Leather Protection Cream
Sponge & Cloth
Leather Ultra Clean
Is a safe to use and gentle leather cleaner capable of removing even the toughest of stains from leather. Cleaning with a sponge to create a foaming action it will get into the grain and lift out dirt easily.
Leather Protection Cream
After cleaning the leather it is necessary to condition it. This product not only feeds and conditions leather but adds a protective layer that repels stains and prevents wear and tear. Infused with a luxurious leather aroma this product also re-instates the smell back into old & new leather
Key Advantages
Cleans - Safely cleans all leather back to a 'new' condition. Not only that but after applying the protection cream, all future dirt will be held on the barrier it creates and will wipe off easily. It helps stop leathers absorbing dirt!

Conditions - Feeds the leather with natural oils and waxes preventing it from drying out and cracking.

Repels Stains - Added barrier protection technology in the cream allows the leather to repel oil and water based stains, retaining them on the surface so the leather can easily be wiped clean.

Protects - Not only from stains, the protection cream adds an invisible barrier to the leather that protects the leather from the elements. When you sit on leather you cause friction, continuous friction will wear away the leathers coating causing your leather to become rough and faded. The colour may even start to peel and wear off! The protection cream absorbs all friction and so helps prevent the above problems.

Smells - This product will temporarily infuse the smell back into all items of leather

NEW: Reduces Fading - With added UV inhibitors the protection cream now also helps prevent the sun from fading the leather when it is in direct contact.
We are dedicated to Helping our Customers feel free to contact us:
Phone – 01254 268590
Email – info@­de­sig­ner­sof­as4u.­co.­uk
LiveHelp – Click Here, alternatively click the icon in the Top-Right of your screen to speak to an Advisor
Some Assembly may be Required
Dimensions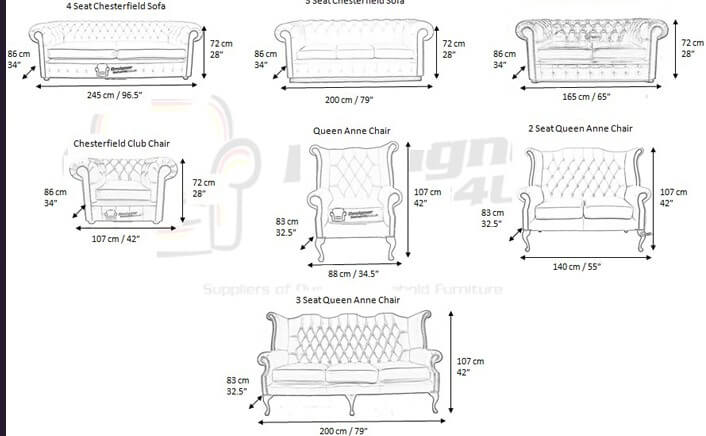 Reviews
There are no reviews yet.
Add review
More products from Chesterfield Suites
Showing 1–12 of 903 items