Description
Balmoral Real Leather Sofa
A stunning design, evolved from the original Chesterfield designs of the 1800's.
Regarded by many as the perfect Chesterfield Sofa, with hand buttoned seat, renaissance hand studding and raised mahogony feet on polished brass castors.
Standard Product Specification
The sofa seat interiors are fully foam.
Individually hand studded, and buttoned. Available with buttoned seats as shown or cushion seat as standard.
Chesterfield sofas are available with solid wooden bun feet.
Serpentine high tensile zig zag springs.
Frames constructed from solid hardwood.
All cushions are zipped and removable.
Other Product Info
LEATHER GUIDE
Aniline Oil Based Pull Up - Bearing all original marks and scars of the hide, the most natural of the available leathers. A full thickness leather that is also soft to touch. This leather will also absorb minor scratches and is a naturally marking leather. Aniline dyed to create a natural variation in colour throughout the hide ensuring that no two pieces are the same. Like all Pull-Up leathers, Forest Brown will not have a consistent colour density across the whole hide and is designed to change colour when pulled or stretched. This means that furniture will have a much more relaxed and aged look from new.
Semi Aniline Waxed Pull Up - Bearing all original marks and scars of the leather but with a waxed based coat. This leather will not mark as the full aniline, and has a smooth surface touch. Natural colour variation throughout the hide, but less variation that the full aniline. Semi Aniline is highly sought of because of its ability to appear like full aniline and because it is perhaps slightly easier to maintain. These pull-up leathers are tanned to ensure a pleasing distressed finish. Extra fat liquors are applied during tanning in a way to give the leather a waxy feel. The leathers are designed to allow the natural variations of the leather to show through the finished coat. Pull up leathers do not have a consistent colour density across the whole hide. They are also designed to change colour when pulled or stretched.
Corrected Full Grain Leather - Durable and easily maintained. The leather undergoes a number of processes to colour, and seal the leather. An easily wipeable surface and an array of colours are available in this leather. What is gained in durability is lost in the distressed characteristics of the leather.
Antique Leather - Durable full leather, the has a dark top coat that is uniquely hand rubbed after upholstery. The rubbing of the leather lifts the top coat revealing the underlying colour and is rubbed in areas to create the worn antique effect you can see in our Chesterfield sofas.
We are dedicated to Helping our Customers feel free to contact us:
Phone – 01254 268590
Email – info@­de­sig­ner­sof­as4u.­co.­uk
LiveHelp – Click Here, alternatively click the icon in the Top-Right of your screen to speak to an Advisor
Your Payment Options
Paying by Debit Or Credit Card Or Paypal
Pay For Your Order In Full Upfront
OR
Pay a 50% Deposit At Checkout And Pay The Balance Before Or On Delivery
Some Assembly may be Required
Dimensions
Please Note: All Dimensions quoted are approximates only'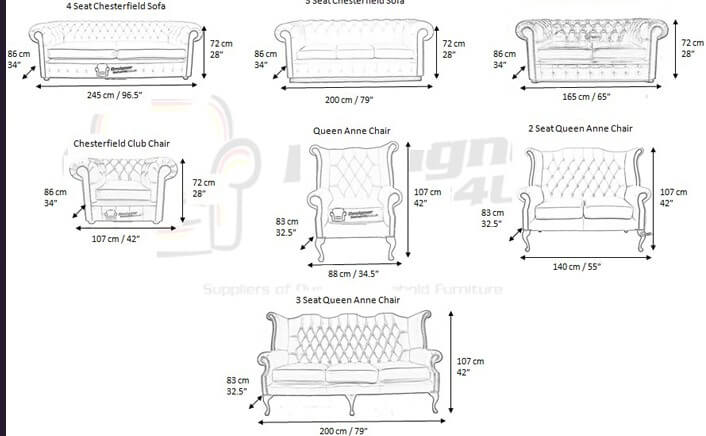 Reviews
There are no reviews yet.
Add review
More products from Chesterfield Sofa
Showing 1–12 of 1044 items