Designer Sofas 4 U Black Friday & Cyber Monday 2016 Mega Sale Offer
What is Black Friday?
Black Friday is an American tradition which used to see stores open early once a year to reveal colossal deals as well as time limited offers throughout the day. This popular trend has spread inter­nati­onally, and has taken the online market by storm. What was once a 24 hour spectacular shopping spree is now an extension of sales across the whole weekend, and ends on the night of Cyber Monday. The weekend of Black Friday is the ideal opportunity to tick loved ones gifts off the Christmas list.
What is Cyber Monday?
Cyber Monday is a continuation of Black Friday, which sees online shoppers benefitting from various huge sales. Cyber Monday isn't as popular as Black Friday, yet it is still becoming one of the biggest online shopping days of the year across the world.
When is Black Friday and Cyber Monday?
Black Friday is the Friday following Thanksgiving Day in the United States, which is the fourth Thursday of November. This year, Black Friday is on 25th November 2016.
Cyber Monday is the following Monday after Black Friday; this will be Monday 28th November 2016.
Will Designer Sofas 4 U be taking part in Black Friday?
Yes we will! This Black Friday we will be slashing our prices from up to 50% to 70%. That's right – we are giving you up to 50% to 70% off all of our products on the website! This offer will also apply on Cyber Monday.
Save hundreds of pounds this Black Friday weekend with Designer Sofas 4 U!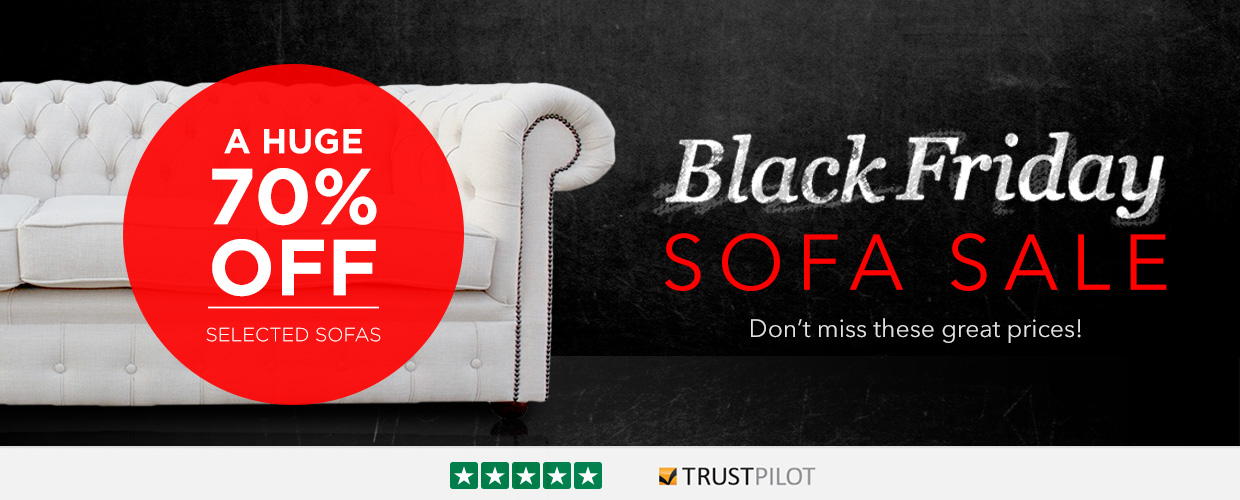 How do I get this offer?
Just get in touch to take advantage of these big savings!
Give us a call on 01254 268590! The sale line is open from 09:30 and 17:30, Monday to Friday.
You can also buy it online at: https://­www.­desig­ner­sofas4u.­co.­uk/­sale
Alternatively pop in to our showroom at: Designer Sofas 4 U Ltd
Chesterfield House
Forrest Street
Blackburn, Lancashire
BB1 3BB United Kingdom
Why choose Designer Sofas 4 U?
Designer Sofas 4U manufacture and sell the largest collection of Chesterfield furniture in the UK, alongside other high quality furniture for the modern or contemporary home.
Each piece of Chesterfield furniture is handmade to order by skilled craftsmen, who utilize traditional techniques to produce the highest quality furniture possible.
Designer Sofas 4U have worked with Toni and Guy, ITV Productions and NatWest Bank, amongst many other well-known brands, and securing this certificate is the next step in becoming an internationally known furniture retailer.
Designer Sofas 4 U has attained accredited member status with the British Furniture Manufacturers (BFM).
Don't just take our word for it; Check out (https://­www.­trustpilot.­com/­review/­www.­desig­ner­sofas4u.­co.­uk ) what our existing customers says!