How to Decorate a Rented Home
A few years ago I was about to move in to my first home, a rented 2-bed house and I thought I was the bee's knees! I thought I'd be shopping at high-end department stores, discussing rug colourings with the cashiers on a weekly basis and carrying home garden plants and curtain poles.
Oh how I was wrong.
I stepped into my new home and couldn't even begin to figure out where to start, or more importantly how to make this house a home.
With generation rent well and truly in full swing, home ownership is now at a 25-year low so more of us are renting than ever before. But where do you start when it comes to decorating?
Personalise Your Furniture
You may not be able to paint the walls or create a feature wall with that funky wallpaper you've had your eye on forever but you can personalise your furniture (note: it has to be your furniture!).
Why not give a chest of drawers a fresh lick of paint and add a stencil to introduce some fresh features such as flowers or a unique pattern?
Also, dust off the sewing machine and create your own seat covers and cushions. Change with each season to freshen up the vibe in the room and complement with season accessories.
Image: https://­www.­flickr.­com/­photos/­emilysnuffer/­10671003844/
Line Your Cabinets
Chances are, you're not moving into a brand new building that has been designed especially for you (unless you're really lucky, that is). One way of disguising grubby cabinets is to line them with a soft grip liner which is easy to install whilst looking neat and clean.
Not only that, but it saves you a painting job and it can prevent any of your glassware from chipping on the hard surface!
Introduce Your Accessories
To get a truly personal space, ensure you introduce the accessories which make you, you. This home will be yours for the foreseeable future so choose accessories which are a reflection of yourself, which you know you'll love to look at and incorporate these into each room.
Stick with a single theme for each room but don't be afraid to go against the rules. Bring nautical out of the bathroom and give your living room a coastal theme with some stripy throws, anchor ornaments and sea-view pictures to go on the wall, for example.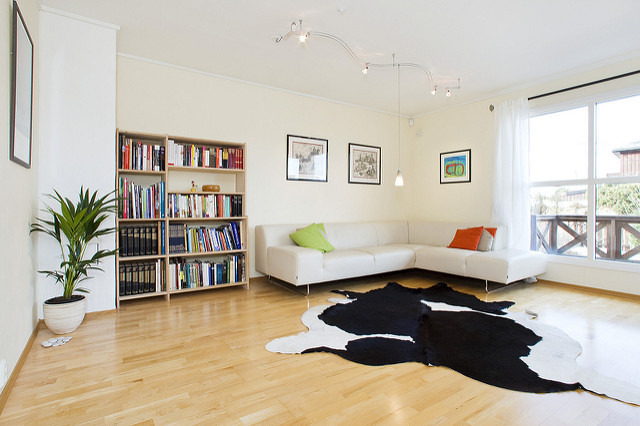 Image: https://­www.­flickr.­com/­photos/­brandnewbrain/­2302104436/
Bring in Your Favourite Rug
Rugs are perrrfect for hiding any unsavoury carpets and can hide a multitude of sins. Trust me, I know. My carpets were littered with stains, spills and cigarette burns but nothing a good old-fashioned rug couldn't hide!
A decent rug can create a stunning focal point to any living space and not only that but it can help protect your carpet against any further damage. That'll keep your landlord happy at least!
How have you decorated your rented home? Get in touch and share your top tips by leaving a comment or get in touch on social media.
DesignerSofas4U are one of the leading online furniture retailers in the UK. We create bespoke and made-to-order items of the highest quality. All of our furniture is handmade with ultimate care and precision so to talk to one of our experts to find your ideal sofa, please get in touch on 01254 268590 and we'll be happy to help.