Description
HANDCRAFTED IN ENGLAND
The Chesterfield Classic Sofa Bed. The Chesterfield Leather Sofa Bed with it's unique Low Back Style, Deep Buttoned Arms and Back complemented with a Buttoned Front Border. The Scroll Fronted arms on the Chesterfield Leather Sofa Bed are attractively embellished with lines of individual stud nails. An undoubted winner in any room from the cottage to the boardroom. A classic of its kind ;Traditional Vintage British Style.
Handmade in Old English Bruciatto Leather
Non Tropical Screwed and glued hardwood frame made in house
Upholstered and buttoned by craftsmen
Real wood Bunfeet
Hand studded
From construction of the frame to filling in the cushions all is completed in house.
Individual seating options (Soft, Medium, Firm)
Payment Option 50% Deposit Rest of Balance on or before Delivery
Free Swatch Service
12 Month Manufacturers Guarantee
10 Year Manufacture Guarantee on Framework
Manufactured In England
Worldwide delivery Available
With a durable spring based sofa bed frame and heavy duty pull up and roll out mechanism
Practical fabric covered foam mattress
What Is Selvaggio Leather?
This distressed, pull-up leather has been lightly brushed with beeswax to give a pleasant matt appearance. It is also designed to allow the natural the natural variations of the hide to show through the finished coat.
These are aniline leathers, tanned to ensure a pleasing distressed finish. Extra fat liquors are applied during tannage, to give the leather a waxy feel. The leathers are designed to allow the natural variations of the leather to show through the finished coat. Pull up leathers; do not have a consistent colour density across the whole hide. They are also designed to change colour when pulled or stretched. These types of leathers are not as colour fast as pigmented hides and should be protected from direct sunlight and not placed next to radiators and other heat sources where the wax could dry out. Evidence of marks and scarring will be seen through the surface finish. Each hide is unique and swatch samples should be regarded as no more than a guide for these types of leather
Please click here for an insight into the history of our Chesterfield Settees
Some Assembly may be Required
Dimensions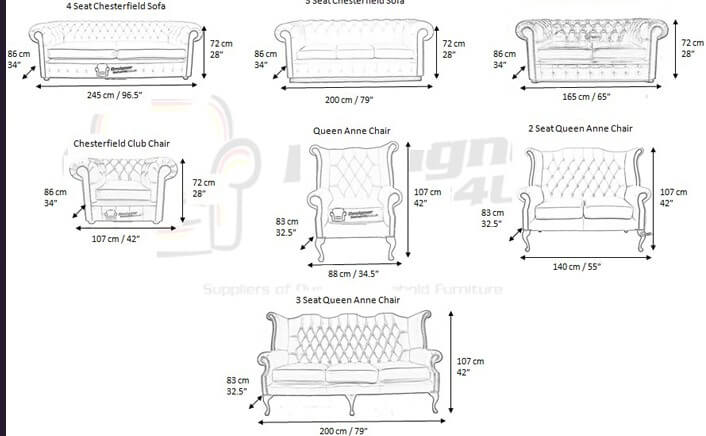 You may also be interested in…
Showing 1–12 of 126 items
Reviews
There are no reviews yet.
Add review
More products from Sofa beds
Showing 1–12 of 201 items