Personalised Virtual Furniture Live Video Viewing at Designer Sofas 4U
For our customer and staff safety we have now launched a new convenient service to allow a "Virtual Live Furniture Viewing" via WhatsApp Video Call, Facebook Messenger Call, Google Due calls or Google Meet and Zoom video call software.­ Our team members will help you clarify any questions you may have and take the order. This way you can have a bespoke virtual viewing to your requirements through WhatsApp/­­Facebook and Live Chat.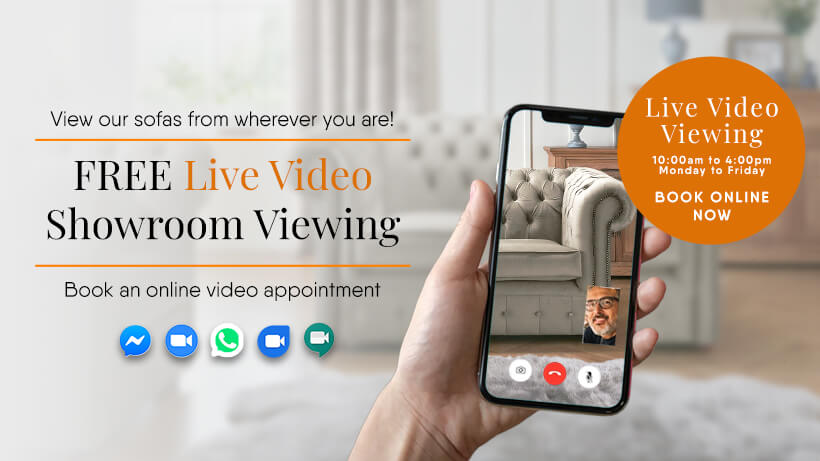 The benefits of a video appointment
Social distancing
We can remain socially-distanced from you, employees and customers
Quick quote
With video technology we can get a quote over to you fast. And save your times and money too
No equipment or software needed
No need to download anything, all you'll need is a mobile phone or smart device with a camera
Safe and secure
Once appointment is confirmed, we'll text/email you the details to connect you to our member
Just your site
We only need to show you the products and voice to discuss the details, so you don't need to show your face if you don't want to
Range of expertise
With expert advice and guidance, we'll send you a tailored quote/info to suit the needs of your requ­ire­ments. We have expertise in a wide range of furniture including Italian furniture, Chesterfield furniture, Vintage antique range and Modern furniture
Showroom Info
We have a factory showroom based in Blackburn with appro­­­­ximately 110+ products available to see. We also have an 18,000 square foot factory on the same site with 40+ members of staff. Our warehouse storage facilities occupies an additional 20,000 square foot.
- Appointment has to be book in advance via https://­www.­desig­ner­sofas4u.­co.­uk/­free-personalised-virtual-live-video-viewing or live chat team will help you to book an appointment.
- Visitors has to provide list of products they are interested in so we can arrange all the details before hand
- This facility will only available between Mon-Fri 10am to 4pm and appointment is subject to pre-approved by our team members
- Appointment is subject to availability and we can cancel anytime with prior notice or visitors can cancel with prior notice
- Appointment will last 30 minutes
- We recommend to have a faster internet to make a video call
- We are flexible to offer this facility via WhatsApp video call, Facebook messenger call, Google Due calls or Google Meet and Zoom video call software facilities
Book Your FREE Personalised Furniture Virtual Live Video Viewing at Designer Sofas 4U Here: https://­www.­desig­ner­sofas4u.­co.­uk/­free-personalised-virtual-live-video-viewing