Why you should refurbish your Chesterfield furniture
Eventually furniture will reach the end of its life; whether by brute force or just the gradual passing of time, sofas will always need to be replaced – with no exceptions.
But just because your furniture is damaged or worn out, you can still save it from its fate. With many of us spending thousands upon thousands for a brand new sofa, it's a hefty investment and it's not something we're willing to part with very easily.
So, what can you do if your once-shiny brand new sofa is looking a little tattered and worn down?
Refurbishing your furniture may not be something you've considered in the past, but it's certainly something you should consider now – especially if you have a worn out piece of Chesterfield furniture that we can bring back to life.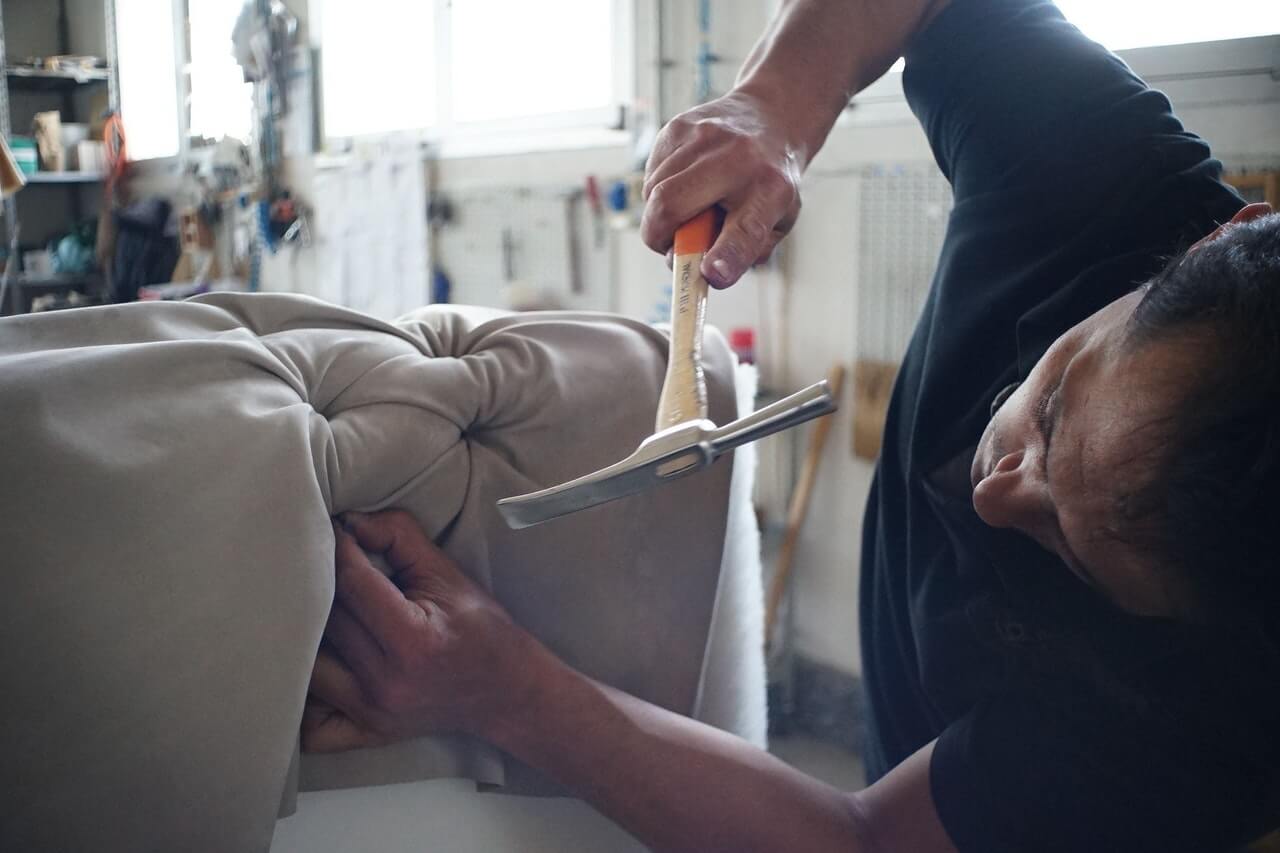 The benefits of refurbishment
As a sofa manufacturer, we understand our industry. We also understand the needs of our highly valued customers. Refurbishing your old Chesterfields may seems like too much effort when you could just buy new, but first consider these points:
1. Breathe new life into a once-loved piece of furniture.
We often meet people with a sentimental attachment to their furniture; perhaps they bought it ten years ago and would love nothing more than another ten years with the item, or perhaps they inherited a vintage and antique Chesterfield from a relative – regardless of the reason, increasing your sofas life expectancy through refurbishment is a wonderful thing to do.
Refurbishing a sentimental sofa makes for a beautiful gift too; imagine offering a stunningly recreated, well crafted Chesterfield sofa to your child as they move into their first home – it's both a practical and thoughtful idea, offering them a piece of furniture that will undoubtedly have hundreds of childhood memories attached to it.
2. Adapt your Chesterfield sofa for a new home or surrounding.
A brand new Chesterfield sofa can be an expensive thing when you're redecorating your home or relocating.
If your sofa doesn't match your new theme there's no need to replace it with one that does. Did you know, for example, that DesignerSofas4U can reupholster your Chesterfield at a fraction of the cost of buying a brand new piece of furniture? This makes for an ideal solution at a time when you might need the savings you make for other things.
3. You'd be doing the environment a favour.
It's certainly the buzz phrase of the moment, but being green, is much more than just fitting in with the crowd. With plastics, pollutants and greenhouse gases severely affecting the world we live in, there's no better time to start being proactive in your approach to helping the environment.
At DesignerSofas4U we're proud to employ green initiatives to help sustain the world we live in, but whilst we do our best there's always unavoidable harm caused through the manufacturing process.
Refurbishing furniture almost eliminates this harm. Depending on the extent of work required this damage to the environment could be negated entirely. If you're conscious about looking after the environment and are in a position to do your part, we encourage you to do. Why not take a look at our ever-increasing green credentials?
4. You're in the best imaginable hands.
DesignerSofas4U manufacture Chesterfield sofas on a daily basis using traditional methods and materials; we know our business.
If you're looking to reupholster or refurbish your leather Chesterfield sofa then there's nobody more experience or better equipped to deal with your requirements, so get in touch. You can email, call 01254 268590 or fill out our contact us form today.
Did you know? Our friendly and knowledgeable team can help you with a range of queries; we're proud to offer impartial advice on the best course of action – whether you need to find out whether to refurbish your old sofa or to invest in a new one. And remember, if you do choose to buy a brand new one, we offer 0% finance as well as worldwide delivery in as little as three weeks! And we can even take your old sofa away!
If you want to know how to transform your sofa without replacing it, be sure to read our guide here.