Made to measure sofas
Finding bespoke made to measure sofas, bespoke custom corner sofa and sofa beds are never been easy, specially number of designs, materials and sizes to go through. Here at Designer Sofas 4U - UK's premier quality sofas & chairs, you can build or design your own sofa, custom made corner sofa, sofa bed, chairs, leather & fabric bespoke sofas.
We've spent the last 20 years developing and honing in on our craft. We employ master craftsmen and upholsterers to ensure each and every item of furniture that leaves our warehouse is impeccably made, to the highest comfort, quality and safety standards. We are delivering 100's of bespoke sofas from London to through mainland UK and Ireland.
In fact, we're so confident in our ability to create a luxury, custom-made sofa that we're putting the power in your hands, Make your own sofa now!
We're proud to offer our bespoke sofa service which means you can have your very own, one–of–a–kind, tailor made sofas, unique sofa, suite or chair made specifically for you, designed by you and crafted by us taking pride of place in your living space.
Though, we have hundreds of sofa types, from Chesterfield sofas to fabric sofas to corner suites, sometimes it's just not quite right for you. Perhaps, you need an exact colour? Maybe you need strict size specifications in order to fit in your home or maybe you simply want more control over exactly what you're buying? After all, a new sofa is a huge commitment and it's something that you'll want to enjoy for years to come.
Choose from:
Overall width
Seat height
Seat depth
Back height
Design and details
Choice of hundreds of sofa legs
Accessories
Fabrics Sizes
Need a longer leg on your sofa? No problem.
Need a wider and deeper sofa to allow the whole family to jump on and rest their weary legs? We've got you.
How about a range of decorative cushions to make it that extra bit comfy? Absolutely!
When it comes to fabrics, we've got hundreds upon hundreds of swatch samples – from velvets to leathers to stripes to fabric to plain to print. Simply ask for our free swatch service and your wish is our command!
Whilst the sofas amongst the pages of our online shop come in standard measurements, as each piece is made in our bespoke collections, we're only too happy to create the sofa you want, at the size you want to meet your specifications.
For example, you may need:
Deeper seats
Shorter seats
Higher back
Shorter back
Wider sofa
Narrow sofa
Higher arms
Lower arms
With our decades of experience, we will easily guide you through the process every step of the way. You're included from start to finish as we design and perfect your sofa in our British workshop right here in Blackburn.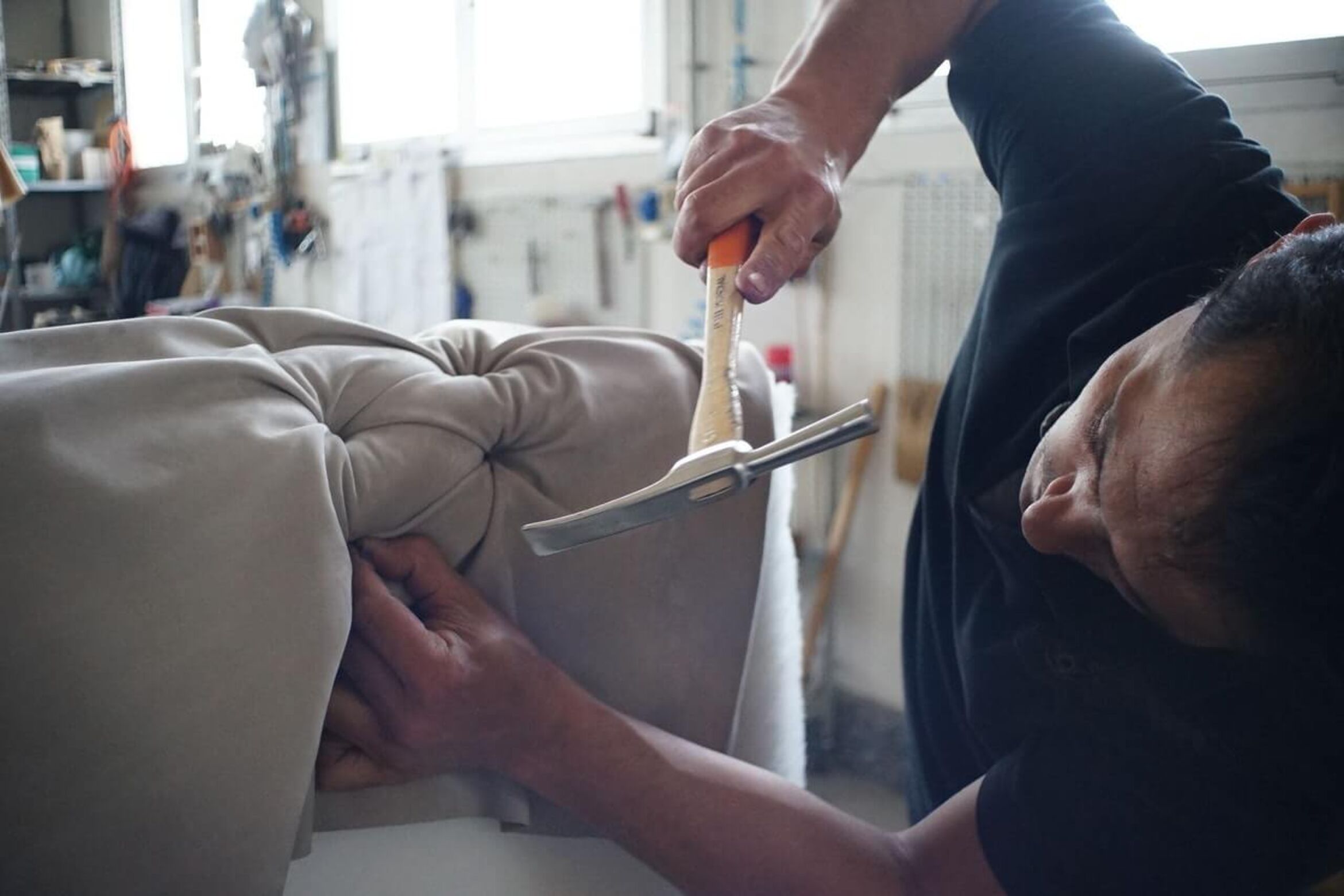 Also, with our 10–year construction guarantee and our generous 12–month warranty on our bespoke sofas, you can rest easy knowing you'll have a quality piece of furniture that is designed to last. Did you know we are accredited members of the British Furniture Manufacturers Association, a trade organisation representing the quality and championing handmade items of furniture right here in the UK.
Whether you want complete control over the design or size or whether you want to use a standard design and adapt it to your own requirements, we're happy to do as much as we can to help you get your dream sofa!
So, why should you choose a bespoke sofa? Well, we've got a handy guide which tells you all the benefits. Read it here.
Please call us on 01254 268590 for further information on our bespoke service or pop into our Blackburn showroom to discuss in detail.