A Complete Guide to Chesterfield Sofas
We all go home at some point. It is the dearest place we have; it's where we can be ourselves, where can do the things we love, where we can belong, despite our unique qualities. There is no better feeling than having your home be exactly what you imagine, when you need comfort. Many factors come together to give you this comfort, and while nothing is of greater importance than family and friends, it is furniture that turns your house, into home. This is why choosing the right furniture for your home is so imperative when designing the interior of your home.
Everyone has their own preferences; this is an unquestionable fact. Some prefer the natural and rustic bliss of a Bohemian interior, while others bask in the mysteriousness minimalism of modern furniture. But after a long day of work, coming inside from a dry, cold winter evening, if you prefer to come home to something simple and familiar, yet something very outspoken and that says a lot about you, then the solid classy is the style to go with. Shelves of books, a small lamp, an office desk, a potent drink, and most importantly, a sprawling sofa. And no other kinds of sofas say "class," like a Chesterfield.
Where Do Chesterfield Sofas Come From?
Chesterfield Sofas found their origin in England, first of which were made around the 17th to 18th century, having been ordered by Lord Phillip Stanhope, Earl of Chesterfield (hence the name). Throughout the 19th century, Chesterfield Sofas became far more popular and could be found in many affluent homes. The Chesterfield sofas were exported all across the world through the by the British Empire, including to the United States and Canada.
The design of the Chesterfield Sofas can be differentiated from other sofas by the equal height of its back and arms. This is a design choice that came directly from the Earl of Chesterfield himself, who had commissioned a sofa to be made, that would allow the sitter to be comfortable when sitting upright, and without wrinkling the fabric of the sofa itself. Thus, the sofa itself garners a noble history. Chesterfield Sofas are also distinct for their deep embroidered buttons, rolled armrests, and a nail head lining.
The Chesterfield Sofas mostly were used for gentlemen's relaxation, whether in homes or lounges and Gentlemen's Clubs. But upon their popularity across the world, they have become a staple in many classically fashioned offices, libraries, living rooms. In fact, the legendary psychoanalytic, Sigmund Freud, initially used Chesterfield Sofas during his sessions, and has become an icon of his legacy.
While the Chesterfield Sofa was originally used by nobility, more specifically, wealthy gentlemen, the contemporary Chesterfield Sofas have found their way into many homes, regardless of their income, regardless of the sitter's sex. While they my not be as popular as the classic high-backed sofas, they are still commonly used today. And while today there are many different styles of Chesterfield Sofa, of different colours and styles, not simply made for classy rooms, they are still divided into several categories and types.
How Are Chesterfield Sofas Different From Other Sofas?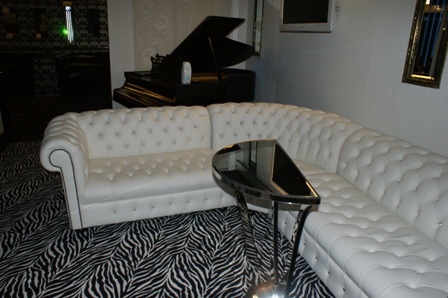 Chesterfield Sofas are differentiated based on their back; they can either have straight or crested backs. Straight-backed Chesterfield Sofas are exactly what you imagine them to be; they have straight backs and are generally complemented with straight armrests as well. Crested backs, on the other hand, are rounded back, as are the armrests. While the straight-backed Chesterfields appear in somewhat more modern interiors, the crested, being closer to the design of the originals, are seen as more formal.
Another distinguishing factor among Chesterfield Sofas are their legs. Modern Chesterfields have tall legs, which are sometimes visible or sometimes hidden behind the front cushions and skirts of the sofa. Classic Chesterfield Sofas generally came with higher legs, which were less often hidden, considering that many of them lacked the bottom skirts or cushions. While contemporary chesterfields have recently started using high legs, a few decades ago, most preferred to make them with smaller legs.
And the third factor that differentiates Chesterfield Sofas are the patterns or the cushion styles. While the classic Chesterfields have always lacked cushions, using leather covering with deep buttons, giving the sofa a diamond pattern, modern Chesterfields go for a more casual approach, with fabric covering, ranging in color, and lacking the buttons; instead using cushions and pillows.
Which is the best type of Chesterfield Sofa?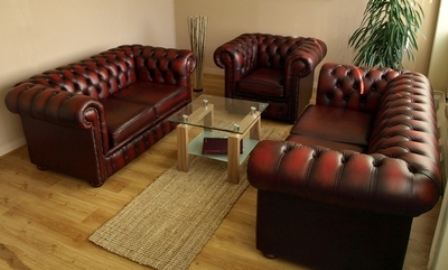 Despite their origin, which was made for a rather specific purpose, with more a more concrete interior design in mind, modern Chesterfields vary in styles and designs. While leather coverings with deep buttons are still popular with those looking for a classy feel for their libraries or offices, Chesterfields are still more accessible than they were before, and are not limited to older-fashioned rooms. You can find modern Leather Chesterfield Sofas in bedrooms near beds, in living rooms in front of the television, even outdoors in many restaurants and cafes. Their usage has become far more universal than before.
For a more casual room, a modern interior and something that is easier on the eyes and does not scream classy, shorter back and armrests can go well with the casualness. A squared, rather than crested back and armrest also gives off a modern vibe, which goes well with the hard edges of other modern pieces of furniture. Additionally, a straight back sofa also allows individuals to sit on the back of the sofa itself, which grants additional comfort for an informal gathering of friends and family, without losing the identity of the Chesterfield itself. Non-leather Chesterfield sofas, unlike the original intention of the sofa itself, allow the sitter to sit comfortably without having to sit upright. The sitter can comfortably sit on the sofa in any position whether watching television or relaxing with friends in a cool room, in a hot summer day.
As with the original design and purpose of the sofa, Leather Chesterfield Sofas are still quite popular with more formal interiors. While comparatively less than before, you can still find them in many offices and personal libraries, as well as some living rooms and bedrooms. While you may have trouble finding any restaurants or cafes with Leather Chesterfield Sofas, as well as hotel waiting rooms, where they used to be quite popular, they are still very commonly used in lounges and cigar bars.
Unlike the easy-on-the-eye colourful fabric of the modern Chesterfields, Leather Chesterfield Sofas give a weighty authority to the room and grab a greater amount of attention. While they can also come with a straight back, instead of crested, more often than not, you will not find people sitting on the back of these Chesterfields, especially considering most leather Chesterfield Sofas come with crested backs and armrests, which are more difficult to rest on. Sitting on a Leather Chesterfield Sofa still asks the sitter to remain upright, but still gives much comfort with its sprawling seat and the tall armrests. Its powerful, deep button pattern, giving the sofa a diamond shaped pattern, also carries with it a distinct classy feel, and a formal attitude.
The formality of the leather, the crested shapes, the diamond patters and the buttons go well in rooms dominated by classic wooden parquetted floors, walls busy with decorations, and other heavy furniture. Those that find more comfort in the heavier and darker aspects of life, looking for something that is loud, but somber, will most certainly like to have a Leather Chesterfield Sofa in their room.
Classy or Comfy, Chesterfield Sofas Fit Your Needs
Both Fabric Chesterfields Sofas and leather ones are a popular piece of furniture all over the world. However, it is in its place of Origin, the United Kingdom, where the Chesterfields are very renowned pieces of furniture, recognised for their distinct design. There are many brands of Chesterfields, some of which specifically specialise in crafting numerous designs and styles of Chesterfield sofas. There is no doubt that the sofa itself is seen a cultural icon, as well as an important part of United Kingdoms history. If you're looking for the most authentically crafted Chesterfield sofa, then consider ordering from the United Kingdom itself.
While individually, all pieces of furniture are impressive, it's only when they come together with the rest of the room that they are able to garner a distinct style, emotion and message. While a Chesterfield sofa, especially if it's leather, is already quite formal in and of itself, it becomes an intensely effective piece of furniture once matched with the rest of the atmosphere. Chesterfields have been expanded into so many different styles and nuances, that one must remember to put it together with all the other pieces, so that it becomes one with everything else. But whether you are looking for the simple comfort of a modern room, with its many somber colors and hues, then a modern Fabric Chesterfield Sofa is the perfect central piece for the minimalistic style of the room. But if you're looking for something more traditional, something that says much more about the kind of person you are, about the kind of interests you have, then consider picking up a slick, leather Chesterfield to accompany all the other complex tastes that you have. Either way, the spaciousness of the Chesterfields, their equal backs and armrests will help you amplify the comfort in your home. And what's a home, without all the comfort you desire?